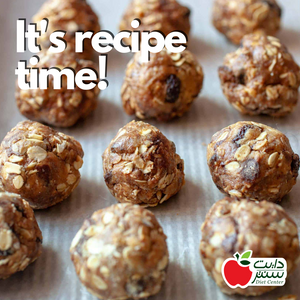 Why is it important to incorporate oats in our diet?
Why do dietitians encourage us to include oats in our diet? Oats are a whole grain, they have lot of health benefits, are nutrient dense and can be incorporated in several ways in our diet. In fact, oats are a good source of carbohydrates as well as fiber, they are also loaded with vitamins and antioxidants. For example, they have a high content of manganese, phosphorus, and vitamin B1. Due to their high fiber content, oats showed to help in reducing LDL, cholesterol, blood sugar and with constipation. Moreover, oats are very fulfilling, and they keep you full for a long time which helps you lose weight.
There are several ways of incorporating oats into your diet: you can have an oat porridge for breakfast, or some oat pancakes or as desserts and snacks. Below is an easy to do snack recipe with oats.  
Healthy Energy Balls recipe!
Ingredients for 12 balls, each ball has only 100 calories!
-  1/2 cup oats
-  1/4 cup peanut butter
-  1/2 cup chocolate chips
-  3 tablespoons honey
-  3 tablespoons chia seeds
-  1 teaspoon vanilla extract
Step 1:
Combine oats, peanut butter, chocolate chips, honey, chia seeds, and vanilla extract together in a bowl. Cover and chill dough in the refrigerator 30 minutes.
Step 2:
Remove dough from refrigerator; roll into balls.
---