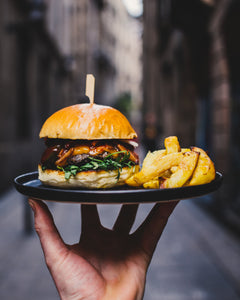 Do you Have to Give Up Burgers?
Burgers are one of the most popular indulgent savory dishes out there. People can't get enough of juicy patties, soft buns, crunchy pickles & thousands of sauces to choose from! It's also that meal everyone looks forward to at the end of the week when dieting- the ultimate cheat meal!
Well we're here to tell you, it doesn't have to be that way! We're always reminding people that it's truly about a lifestyle change, decisions & choices that are realistic and you could stick to on the long term! 
Our vote: take your favorite meal & give it a healthy but delicious twist- that's exactly what we do here at the Diet Center. The burgers you usually find at restaurants aren't only packed with calories (400-500 on average-without the fries!), they're often drenched in saturated fats, added chemicals & sugars! If you think about it, you're not really rewarding yourself with that burger & here's what you can do instead!
Visualize what your ultimate burger looks & tastes like and start thinking of healthy alternatives:
whole wheat, multi-grain bun lightly toasted without added oils
lean beef patty with your favorite spices (about 70g/patty)
fresh veggies (go crazy here!)
light mayo with a little ketchup, dijon mustard (almost no calories!) with a little honey or light mayo with some garlic (if you're not meeting with anyone later!)- a tablespoon of sauce should suffice!
a side of fresh mixed greens & baked potato wedges with paprika spice!
Try it out and let us know what you think-it'll be a life changer!
You can also take the easier route & order one of our burgers (beef, chicken or falafel!) anytime: call 01301575/01309450, go on Zomato/Toters or check out our online shop (coming soon)!
---