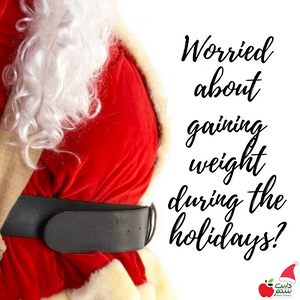 6 tips to help you stay healthy during the holidays
The holidays are around the corner, you will be tempted to over eat and gain weight.  By eating just 300 extra calories a day you could gain 1 to 2 kilos over a period of 10-14 days.
We will provide you with 6 tips to help you stay healthy:
Eat slowly, mindfully and savor what you are eating. This will help promote better digestion, keep you full while eating less, improve your food choices and free you from unhealthy habits around food and eating.
Wait 10 minutes before refilling your plate. It takes few minutes for your stomach to receive the signal from your brain that you are full. Make conversation, drink some water after that recheck your appetite and decide if you want to refill your plate.
Keep moving and stay active. You can do some home workouts, go to the gym, walk around your neighborhood and try to achieve 10,000 steps a day.
Strengthen your immune system. Aim to eat your 5 fruits and vegetables a day. Try to eat a variety and colors of fruits and vegetables in order to receive all the vitamins and minerals.
Stay hydrated. Drink 1.5L to 2L of water a day. 
Choose healthy substitutes and make healthy food swaps. When you go out or cook at home avoid eating fried food and snacks, as well as high sugar and high salty snacks. For example, swipe milk or white chocolate with dark chocolate since it is higher in antioxidants, iron and fiber. You can order our delicious low in calories, fat and sugar snacks.
---